Book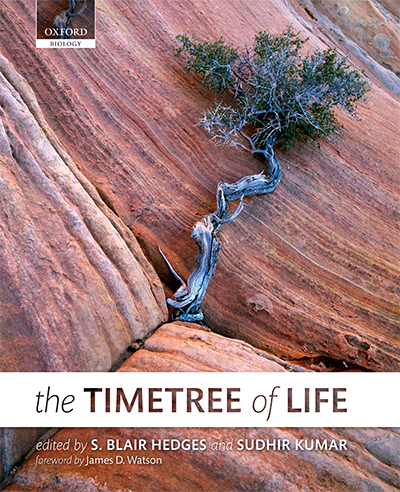 The Timetree of Life
S. Blair Hedges and Sudhir Kumar (Editors) with Foreword by James D. Watson
Oxford University Press, New York.
551 pages
©2009 S. Blair Hedges & Sudhir Kumar
Purchase The Timetree Of Life
Book Chapters
Below are electronic files of articles and figures from the book The Timetree of Life. These resources are copyrighted and are provided here for personal, research, or educational use. Commercial use is prohibited. Link to this page if you wish to make a file available to someone or to post on a web site. Requests to reproduce individual photographs should be directed to the owner or photographer, indicated in the photo credit. Requests to reproduce other figures in the book (e.g., timetrees) should be directed to Oxford University Press. Other questions should be directed to the editors. See also RESOURCES for other information on molecular clocks, methodology, and links to related web resources for the tree of life and timetree of life.
Introduction
Discovering the timetree of life

Timetrees: beyond cladograms, phenograms, and phylograms

The geological time scale

Calibrating and constraining the molecular clock
Protists
Haptophyte algae Haptophyta
Plants
Liverworts Marchantiophyta

Flowering plants Magnoliophyta
Invertebrates
Scaphopod mollusks Scaphopoda

Cephalopod mollusks Cephalopoda

Holometabolous insects Holometabola

Bees, ants, and stinging wasps Aculeata

Crabs, shrimps, and.lobsters Decapoda

Stalked and acorn barnacles Thoracica
Fishes
Jawless fishes Cyclostomata

Cartilaginous fishes Chondrichthyes

Ray-finned fishes Actinopterygii

Sturgeons and paddlefishes Acipenseriformes

Notothenioid fishes Notothenioidei

Labyrinth fishes Anabantoidei
Birds
Ratites and tinamous Paleognathae

Waterfowl and gamefowl Galloanserae

Passerine birds Passeriformes

Shorebirds Charadriiformes

Diurnal birds of prey Falconiformes

Cranes, rails, and allies Gruiformes

Woodpeckers, toucans, barbets and allies Piciformes

Swifts, treeswifts, and hummingbirds Apodiformes
Mammals
Placental mammals Eutheria

Armadillos, anteaters, and sloths Xenarthra

Tenrecs and golden moles Afrosoricida

Pikas, hares, and rabbits Lagomorpha

Hedgehogs, shrews, moles, and solenodons Eulipotyphla

Rhinoceroses, tapirs, and horses Perissodactyla

Whales and even-toed ungulates Cetartiodactyla
Timetree of Life (2015) Download (>50,000 species)
Hedges, S. B., Marin, J., Suleski, M., Paymer M., Kumar, S. 2015. Tree of Life Reveals Clock-Like Speciation and Diversification. Mol Biol Evol (2015) 32: 835-845
Timetree of Life (2009) Download (1,610 families)
Hedges, S. B., Kumar, S. 2009. Discovering the timetree of life. Pp. 3-18 in The Timetree of Life, S. B. Hedges and S. Kumar, Eds. (Oxford University Press, New York, 2009).